Professional Academy hosts resume/interview critique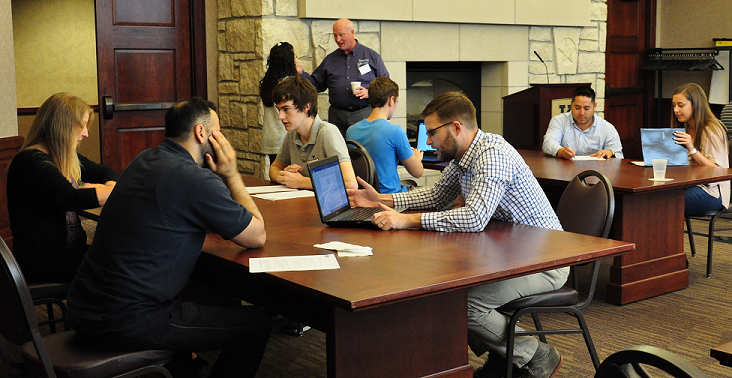 The IMSE Professional Academy is a group of alumni who assist, mentor and connect with students majoring in industrial engineering. Each fall the academy hosts a resume/interview critique event offering students the opportunity to get helpful tips on improving their resumes and interview skills. At the same time, alumni are able to share their experience and knowledge about what future employers might be looking for.
This year's resume/interview critique was Sept. 7 at the K-State Alumni Center with approximately 50 alumni, undergraduates and graduate students in attendance.
Set up in the style of "speed dating," this unique event allows students to interact with a variety of professionals within a short time period. Each participant typically spends about six minutes with a reviewer before moving on to the next table. But students are not the only ones gaining experience.
"It's a great way to give back to the students and the department," said Anita Ranhotra, a Professional Academy member. "The students seem to appreciate hearing our perspectives as well as the opportunity to have immediate feedback."
Those interested in participating in IMSE Professional Academy events or the IMSE Mentor Program, can email the department at
imse@ksu.edu
for further information.