Suprem R. Das | Assistant Professor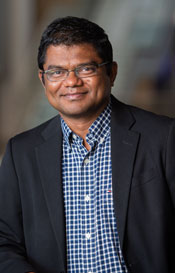 Jeffrey and Joy Lessman - Carl and Mary Ice Keystone Research Scholar
Ph.D. - 2013, Purdue University
Physics
M.S. - 2006, University of Puerto Rico-Rio Piedras Campus
Physics
B.S. - 1996, Utkal University, India
Physics
Contact information
2084 Rathbone Hall
srdas@k-state.edu
Google Scholar page
Website
Professional experience
Dr. Suprem Das joined the Department of Industrial and Manufacturing Systems Engineering at K-State as an assistant professor in Fall 2017. He is also an affiliated faculty member with the Mike Wiegers Department of Electrical and Computer Engineering. Das holds a doctorate degree in Physics from Purdue University, West Lafayette. His doctoral research was conducted with David B. Janes at Purdue's Birck Nanotechnology Center located in the Discovery Park. Before coming to K-State, Das spent one year as a post-doctorate research associate at Purdue's School of Electrical and Computer Engineering. Subsequently he was working as a fulltime researcher in Mechanical Engineering at Iowa State University while also affiliated with the Division of Materials Science and Engineering at Ames Laboratory, a U.S. Department of Energy Laboratory.
Research
Das' most recent research interests involve additive manufacturing and laser-based manufacturing of graphene, nanotubes and other nanomaterials for sensing and energy applications such as electrochemical sensing and electrochemical energy storage. He is keenly interested in studying various other forms of energy storage and conversion sciences. In addition, his core interest lies in the fundamental understanding of the transport physics in micro/nanoscale materials and manufactured devices. During his doctorate study, he investigated electrical and electro-thermal transport phenomena in nanoelectronic devices such as field effect transistors and graphene-based high-performance transparent conductors.
Academic highlights
In 2020, Das has been awarded with a US NSF and UKRI joint research funding to study the Signal in the Soil, where he leads an international team of scientists from Kansas, Texas, Alabama, and Sheffield (UK). His research has been highlighted at K-State (and his previous institutions) news services, a number of national and international news outlets (Science Daily, PhysOrg, EurekAlert, etc.), and professional societies' magazines such as IEEE Spectrum (IEEE), Photonic Spectra, Materials Today (Elsevier), and Electrochemical Society (ECS). Previously, Das was awarded the best post-doctoral recognition in Mechanical Engineering at Iowa State University in 2016-17. He was elected as one of Iowa State's emerging leaders within the graduate and post-graduate school. His research has been featured as a 'Next Big Breakthrough' by Iowa State University Foundation's FORWARD magazine (Summer 2017). While at Purdue University, Das was awarded a Purdue Research Foundation Fellowship for his thesis research and a summer boot-camp teaching fellowship for teaching minority students in engineering.