Mike Helwig | Teaching Professor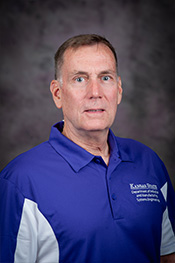 Ph.D. - George Washington University
Engineering Management
M.S. - Naval Postgraduate School
Operations Analysis
B.S. - University of Illinois
Liberal Arts and Sciences

Contact information
Professional experience
Mike Helwig joined the department of industrial and manufacturing systems engineering at K-State as a teaching professor in 2023. He holds a bachelor's degree in liberal arts and sciences from the University of Illinois, a master's degree in operations analysis from the Naval Postgraduate School and a doctorate in engineering management from George Washington University. Prior to arriving at K-State, Helwig was an associate teaching professor at Iowa State University for nine years, a senior engineer at the National Renewable Energy Laboratory for seven years and a research analyst for the Institute for Defense Analyses for four years. He also had a 20-year career as a naval officer with assignments flying F-14s, navigating aircraft carriers, teaching mathematics at the Naval Academy and multiple analyst-based tours in Washington, D.C.
Research
Helwig's past research has focused on energy efficiencies for the military, both in the United States and in a deployed environment. Part of this effort included a visit to Afghanistan and Qatar as part of an U.S. Air Force energy assessment team and the development of an optimization model minimizing petroleum use for the military. Other research efforts included evaluating performances and strategies for engaging online students and measuring the effects of "hands-on" learning experiences of engineering students. In his role as a teaching professor at K-State, Helwig will be focusing primarily on teaching, which is his passion.
Academic highlights
While at Iowa State University, Helwig's teaching evaluations were routinely among the highest in the department and providing excellence in classroom instruction is something he will be striving for continually at K-State. He developed four new courses that were in high demand, all emphasizing real-world applications. Outside of the classroom, he has a history of frequent engagement and speaking requests at honors organizations, ROTC functions, fraternities and sororities, and various other student groups.