David Ben-Arieh | Professor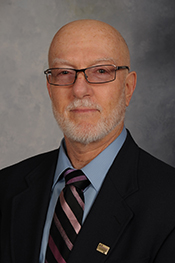 Ph.D. - 1985, Purdue University
Industrial Engineering
M.S. - 1982, Ben-Gurion University, Israel
Industrial Engineering
B.S. - 1980, Ben-Gurion University, Israel
Industrial Engineering

Contact Information
2069 Rathbone Hall
davidbe@k-state.edu
Professional Experience
Dr. David Ben-Arieh is a professor of industrial engineering at K-State. Before coming to K-State, Ben-Arieh earned a Ph.D. in industrial engineering from Purdue University and taught in the department of industrial engineering and management at Ben-Gurion University in Beer Sheva, Israel. His industrial experience includes working for AT&T Bell Laboratories, consulting for the aerospace industry and working with NASA. Ben-Arieh is currently the director of the Health Care Operations Resource Center at Kansas State University and he has served as the national chair of the Human Factors SIG of the American Telemedicine Association.
Research
In his research, Ben-Arieh focuses on mathematical modeling of biological systems. He employs various techniques such as systems dynamics, agent based modeling and systems optimization to model ecological and biological systems. He has modeled biological phenomena such as sepsis episodes and predator-prey systems. In addition, Ben-Arieh is conducting research in the area of spatial game theory, analyzing the effects of delayed information transfer and transient players' behavior.
His research focuses mainly on applications systems design and modeling and holds one patent in this area. In recent years, Ben-Arieh has focused on applications in Health Care Systems Management, including patients flow, information systems integration, and patient quality and safety improvements.
Academic Highlights
Ben-Arieh authored and co-authored 20 book chapters, 65 refereed journal publications and more than 130 refereed conference proceedings. Ben-Arieh's publications resulted in more than 3500 citations and H-Index of 26 according to Google Scholar. In addition to his publications, Ben-Arieh won the Boeing Weliver Summer Faculty Fellowship, and several research grants with NASA.
He is also a Fellow of the Institute of Industrial and Systems Engineering (IISE) and is an area editor for the Journal of Health Systems.