Ashesh Kumar Sinha | Assistant Professor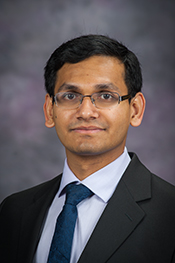 Ph.D. – 2016, University of Wisconsin-Madison
Industrial Engineering
M.S. – 2014, University of Wisconsin-Madison
Manufacturing Systems Engineering
B.Tech. – 2011, Indian Institute of Technology, Kharagpur, India
Industrial Engineering
Contact Information
2083 Rathbone Hall
sinhaa@k-state.edu

Professional Experience
Dr. Ashesh Kumar Sinha joined the department of industrial and manufacturing systems engineering at K-State as an assistant professor in 2017. He received a bachelor's degree in industrial engineering at the Indian Institute of Technology in Kharagpur, India. He earned a master's degree in manufacturing systems engineering with a minor in computer science and a doctorate in industrial engineering at the University of Wisconsin-Madison. Before coming to K-State, he worked as an optimization engineer at Schneider from 2016 to 2017.
Research
Sinha's research focuses on developing optimization models and data analytics to address key supply chain challenges at strategic, operational and tactical levels. On strategic levels, he conducts research to analyze challenges in production and subcontracting decisions due to stochasticity in demand (randomness and cyclical trends) and product complexity. On tactical and operational levels, he develops dynamic supply chain logistics models and analyzes the impact of real world restrictions on the optimal dispatch decisions.
Academic Highlights
Sinha has authored seven refereed journal publications and five conference proceedings resulting in more than 60 citations per Google Scholar. During his doctorate studies, he received the Material Handling Education Foundation scholarship in 2012, the Vinod K. and J. Gail Sahney Scholarship in 2013, and the Richard Fein Scholarship in 2015. His research has been funded through a multi-year collaboration between National Oilwell Varco and three universities—University of Wisconsin-Madison, Texas A&M University and Pennsylvania State University. He is a member of INFORMS, IISE, POMS, and MSOM.