News
Carl R. Ice College of Engineering presents inaugural Sue Barsamian Awards for Excellence in Diversity and Inclusion
The Carl R. Ice College of Engineering had even more to celebrate than usual at this year's fifth annual Diversity, Equity and Inclusion Summit on Nov. 9, presenting a pair of new awards created by alumna Sue Barsamian.
Lei awarded NSF grant to develop all-optical fabrication of waveguides in silicon
Shuting Lei, Carl R. and Mary T. Ice industrial engineering professor, has received a National Science Foundation grant to develop a direct laser writing method to produce 3D optical waveguides embedded inside silicon with low propagation loss.
Mohammed Al Abdullah is changing the world through kindness
Mohammed Al Abdullah graduated in December 2020 and has left a mark of positivity at the campus.
Engineering faculty members receive named positions
The Carl R. Ice College of Engineering has announced nine faculty members, including two from industrial and manufacturing systems engineering, as the most recent recipients of named positions.
Technology Development Institute expands lineman's prototype idea into reality
Design assistance provided by the Technology Development Institute at the Carl R. Ice College of Engineering has helped bring a new version of a wire stripper used in the energy industry to market.
Long-held tradition of vise manufacturing continues with switch to online learning
Timothy Deines, senior instructor in the industrial and manufacturing systems engineering department, has moved to online instruction for his Manufacturing Processes Lab, an undergraduate course he teaches six, three-hour sections of per week.

Engineering professor receives prestigious NSF CAREER award
Dong Lin, assistant professor in the industrial and manufacturing systems engineering department, has been awarded a $500,000, five-year National Science Foundation grant from its Faculty Early Career Development Program.
Technology Development Institute helps Overland Park racing aftermarket parts company gain traction
The Technology Development Institute, or TDI, at the Carl R. Ice College of Engineering is helping BOE Fabrication, an Overland Park company, in its drive to success in the Lotus car high-performance racing market.
Featured Stories
Zhou finds multi-million dollar niche in Asian American market
You (Alex) Zhou, founder and CEO of the rapidly growing e-commerce site Yamibuy, is a master of understanding his market.
Partnering with Industry
Sinha works with former employer to optimize intermodal transportation dispatching

The Identity Initiative
IMSE department and alumni groups continue mission to refocus education on identity development
IMSE's Global Campus: Student completes operations research graduate degree during military assignment with NOAA Corps
Heather Moe was aboard a National Oceanic and Atmospheric Administration ship somewhere off the West Coast when she discovered the field of operations research.
Two IE graduates speak at fall engineering commencement
Industrial engineering voices were prominent at the fall engineering commencement, as graduating senior Drew Ewing and 1990 graduate Ray Dempsey were selected as featured speakers for the December ceremony.
Weekly Newsletter
Week of April 5-9, 2021
The newsletter is jam-packed with information about scholarships, graduation announcements/reminders, MSDA products for sale, an internship opportunity and a conference for women in business analytics.
Alumni Connections Newsletter
Spring 2022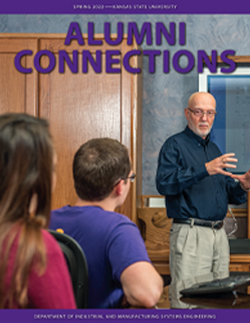 E-Newsletter Issues